What Is A Writing Prompt?
I have found that many students need a kick-start in helping their creativity when it comes to writing. A writing prompt is simply a topic around which you start jotting down ideas. The prompt could be a single word, a short phrase, a complete paragraph or even a picture, with the idea being to give you something to focus upon as you write. You may stick very closely to the original prompt or you may wander off at a tangent.
You may just come up with rough, disjointed notes or you may end up with something more polished and complete, a scene or even a complete story. The point is to simply start writing without being held back by any inhibitions or doubts.
Here are four good reasons for writing to prompts :
1. Sometimes it's hard to start writing when faced with a blank page. Focusing on an unrelated prompt for a while helps get the creative juices flowing. If you write for just ten minutes on a prompt, you should then find it easier to return to the piece you intended to write. You may also find that if you stop trying to think so hard about what you wanted to write and switch you attention to the prompt instead, the words and ideas for your original piece start to come to you after all.
2. The things you write in response to a prompt may also end up as worthwhile material in their own right. The prompt may give you ideas from which a complete story grows or you may get fresh ideas for another piece you are already working on. It's often surprising how much material you come up with once you start.
3. Writing to a prompt regularly helps to get you into the habit of writing. This can act as a sort of exercise regime, helping to build up your "muscles" so that you start to find it easier and easier to write for longer and longer.
4. Prompts can be a great way to get involved in a writing community. Sometimes writing groups offer a prompt for everyone to write about, with the intention being for everyone to come up with something they can then share. This can be a source of great encouragement, although knowing that others will read what you have written can also inhibit your creativity.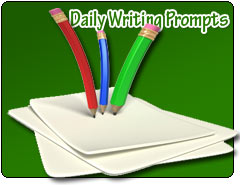 This is a great site where I have used some visual prompts that the students loved:
Enjoy and get out your creative thinking caps! 🙂